Sometime, the users suddenly start getting the error- "Unable to read file.", every time a new excel sheet is opened.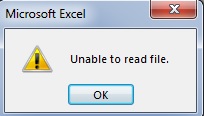 In such situation, generally, the error appears every time the user opens an existing or even new excel file.
When clicked Ok, the file opens fine.
Following is the solution which worked for me:
Search for the "XLStart" folder in machine. It can also be at multiple locations.

C:UsersAppDataRoamingMicrosoftExcelXLStart

Delete the file – "~$Book.xltx". or other corrupted file as displayed in the message.
Open excel again to verify that the error message is not displayed now.